Some other Products offered at
The Wine Seller®
Not just wine…

Cheese

,

salami

,

Duck Liver pate'

and

Smoked Duck

Breast

(like the best pancetta you ever tasted),

crackers

— all the necessary ingredients to complement your wine choices. Also,

Chocolates

and

Pegasus Coffee
Ever so slightly sparkling..
I make a pasta carbonara with this
The Wine Seller® has in stock a vast array of bottle openers, gift bags, and even souvenirs from the area.
the Rabbit lever-pull "Houdini" is in stock as well. $29.99 each

To further complement your gourmet wine, cider, mead and/or beer choices: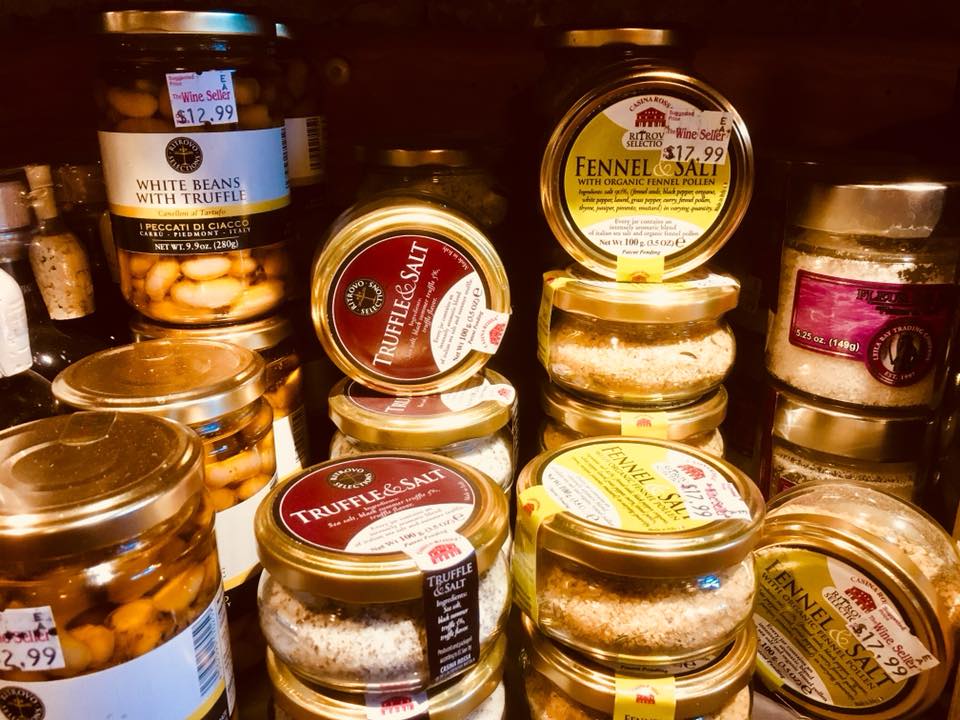 A heady, aromatic blend of hand-screened, air-dried Italian black truffle and sea salt that transforms anything into an exotic mealtime treasure. From scrambled eggs to pasta dishes, cooked vegetables to pates and roasted meats, it's the ultimate way to enjoy the true flavor of truffle every day. Just a dusting on hot and buttery or juicy foods releases its incredible suite of natural aromatics to make even mashed potatoes into pure heaven! Featured in NY Times, Gourmet, Food and Wine, O Magazine, and many others. Used by foodies and 5-star chefs worldwide.only $22.99/jar

(only

$19.08

with

Full

Wineaux Club

Discounts

)

(reg.$24.99-$29.99)
Casina Rossa's top quality sea salt, blended with toasted fennel and organic fennel pollen from Tuscany's verdant Arno valley, is an instant RITROVOR SELECTIONS bestseller. An invaluable condiment for salads and vegetable cookery, also magic on bruschette, pastas, and grilled meats. just $17.99/jar

(only

$14.93

with

Full

Wineaux Club

Discounts

)

(reg. $24.99)
The Wine Seller also carries a line of other Gourmet Salts.
Sugo Al Pomodoro Abruzzo Red

Pasta Sauce

by Casina Rossa

Classic Abruzzo 'red sauce', made in small batches by Casina Rossa. Fresh tomatoes, oregano, garden vegetables, and extra virgin olive oil make for
elegant simplicity at its finest. The perfect ingredient for five-star pasta or pizza and equally elegant over roasted meats and in sauces of all
types.
Now in 3 flavors:
Original Abruzzi;
Puttanesca

;
and

Due Formaggio

…(two Cheeses)

And Black Truffle…NEW!!
Extraordinary! all the way from Italy! and only

$6.99 jar
Toasted Almonds with Truffle & Salt by Miller Farms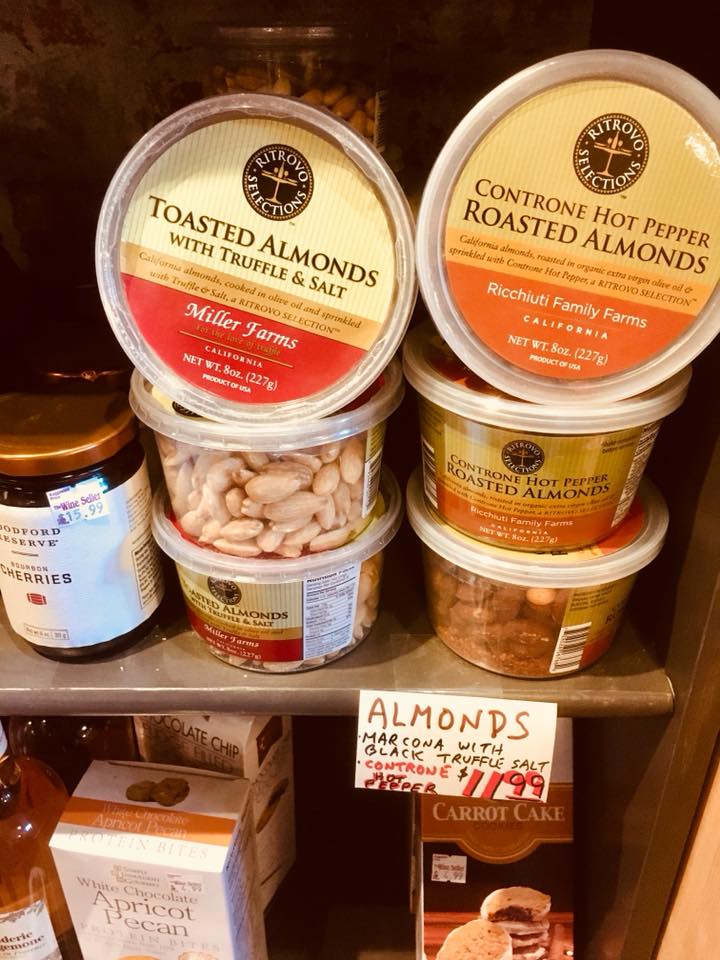 Truffle & Salt pairs with Miller Farms

roasted snacking almonds

cooked in olive oil to create a new taste sensation. Miller Farms, a fourth generation, sustainable farm in Modesto, California selected our Truffle & Salt for its quality, aroma, and flavor. Perfect with your favorite glass of wine.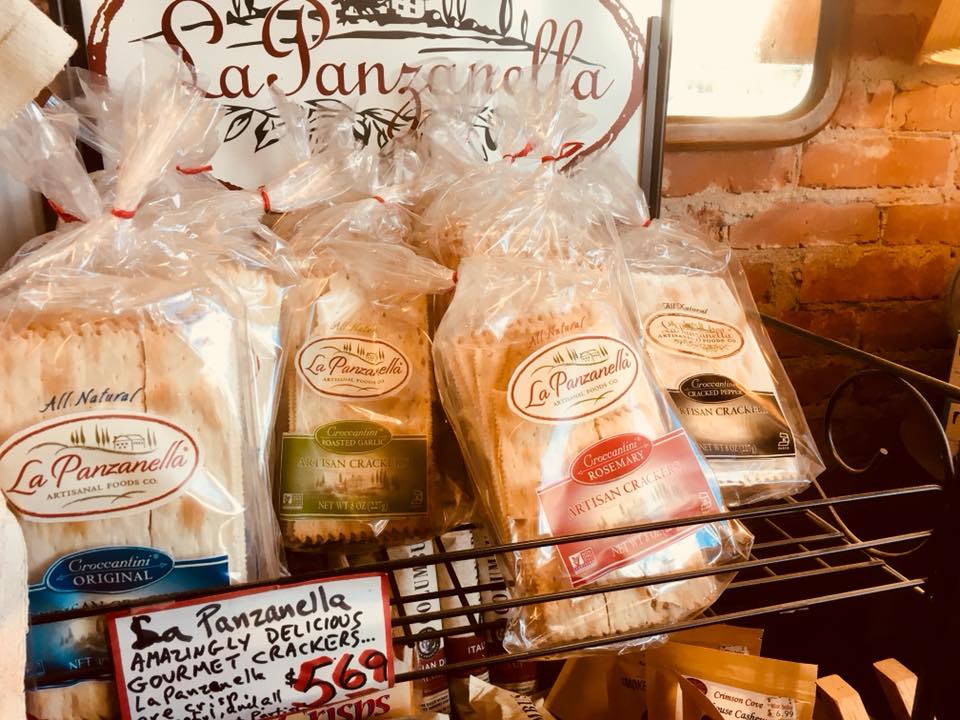 We carry pretty much the full line of Cider and Cider-Like Liquour Products for local Cidery
Finn River

, As well as

Alpenfire

and

Eaglemount

.

—————————————————————-
The wine glasses in stock from Reidel stemware are currently on sale. "Select sizes" only

$7.99/stem

WHEN YOU MENTION THIS WEBSITE SPECIAL

(Regularly 

$9.99/stem

"sale price". Regular "off sale" price $15.99 each) see store for choices. Large "magnum", regular red, white and champagne. Real Reidel at a bargain price!
In the cheese cooler
Fresh supplies of

Mt. Townsend Creamery's Cheese 
Sea Stack, Cirrus, Camp Fire, Red Alder, Truffle Stack (made with Ritrovo Truffle Salt) New Moon.
The Wine Seller®

 carries some wonderful cheese, besides the great stuff from our local Mt. Townsend Creamery (Seastack; Cirrus; Trailhead; New Moon, Camp Fire; Red Alder).
We generally keep an interesting and delicious array of some of our other favorites, which we also feature at our Wine Tastings! Cheeses such as

Cambazola

(that luscious German hybrid of Camembert and Gorganzola);

Delice de

Bourgogne

(unbelievably DEE-licious triple cream French ripened cheese).
one of our newest Favorites is  French
"Elderflower

Tomme"

  Yum!.

A rich semi soft cheese with a light rind and flavor a bit like a gruyere, only a bit earthier and totally addictive!
Gouda

cheeses, including real Dutch stuff, and the aged

"Rembrandt"

version, as well as some small domestic wheels in red wax. We have some Danish

Havarti

, and another of our all-time faves, both for eating and cooking with:

COMTE'

(The King of Gruyere cheeses). The Wine Seller® usually keeps some

Delicious Duck liver pate'

, Salmon Caviar,

Salami

and a nice assortment of

crackers

, including those lovely

PANZANELLA

crackers.
We can also

pre-order larger wheels and wedges

for your parties. Just let us know around a week before you need stuff, and we will be happy to order the cheese and meats for you!
Finish this food array off with a nice assortment of

CHOCOLATES

from

Lindt

and

Seattle Chocolates

, and others…some imported jams and jellies…some exotic mustards…

SMOKED SALMON

from Alaska Smokehouse in Woodinville (some in Wooden gift boxes, all vacuum packed to stay fresh until you are ready to eat it!) We also carry

Thomas Kemper SODA

, and an assortment of bottled waters, such as

Arrowhead

Water

, and

PELLIGRINO

.
The Wine Seller® tries to keep the

cheese prices quite

reasonable

, and we've been told by some of our "price-conscious customers" (and aren't we all?) that we are

generally less per pound than QFC and Safeway

on cheeses. Compare prices if you like. We think you will be surprised and hopefully pleased. And remember, Wineaux Gregarious Members get their discounts on Cheese and Food items, as well as Wine, Champagne, Beer and Ciders

---
These extravagantly wrapped truffle bars are taking chocolate to a whole new level. In ten delightful flavors, these enchanting truffle bars boast a meltaway 

center embraced by a rich chocolate shell.
Give one or a whole box full of these smooth and luscious all natural chocolate truffles and you will be giving a small surprise that results in a big smile! These truffles are available in more than a dozen unique, all natural flavors.
---

Smoked Salmon
Both fresh, from  Cape Cleare as well as boxed for long keeping and easy to pack, ship, and/or travel with. Some in beautifully decorated wood boxes.
---
Coffee
Also Pegasus Coffee, Premium Coffee Roaster from Bainbridge Island. The Wine Seller® has been offering this fine brand of Coffee since we opened in 1982!
Whole bean, or we can grind it to order.
CIGARS
---

 Wine Aerators an pourers from $10.99!