About the WINE SELLER®
"the small town wine shop, with the big city selection"

Established in November

1982

, in

Port Townsend

,

Washington

, by

Joe Euro

. After years of working fine dining in Chicago, Seattle, The Virgin Islands, and Port Townsend, Joe switched careers to become a full time, solo guitarist. However, he quickly found that he needed a good "day job" and decided, after being the Wine Director/buyer/Sommelier at

the

Lido

by the Sea

,

Lonny Ritter's

somewhat famous restaurant in

Port Townsend

, WA., he would open a

small wine shop

dedicated to providing

good value

wines, as well as rarity and pedigreed wines at

fair prices

, in a friendly, easy going setting.

Joe was tired of stuffy and somewhat snobby wine shops he'd experienced in cities where he had lived.
His vision was to establish a very

"user

friendly"

atmosphere

, where wine knowledge and customer service were to be available to wine "newbies" as well as seasoned wine drinking/collectors and connoisseurs alike. In the

Spring of 2007

,

The Wine Seller®

moved

to a larger location, in

the "Palace Hotel" building

.
1010 Water Street

. "Downtown" Port Townsend, WA

The Wine Seller®



1010 Water Street…(selling

Wine

on

Water St…

)
the Perfect "10" location!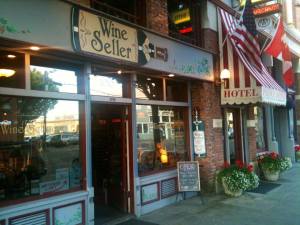 Being one of the oldest, best-regarded and well established wine shops in the State of Washington, the Wine Seller®

is able to obtain and stock some rare and highly allocated wines, when available —

such as

Quilceda Creek

, Leonetti Cellars,

Woodward Canyon,

Silver Oak

,

Spottswood

, Pahlmeyer, Shafer "Hillside Select" — as well as newer Washington and Oregon "Superstars" such as

Walla Walla Vintners, 5 Star Cellars, DeLille Cellars, L'Ecole #41, Ken Wright, Sinnean, Owen Roe

, and many more.
You may see some crazy ads and sales at your local supermarkets for 30% off certain wines and even another

10%-15%

off a 6-pak, but remember that most times those "Front Line Prices" are false or bogus.
Here at the

Wine Seller

, if we list a Regular/Suggested Retail Price, before our sale price, it actually is the full price listed in the distributors catalog or on their or the winery's web site. Then we show our current discounted or "sale" price below it. We've seen some ridiculously inflated

"Front Line Prices"

listed at a certain supermarket when they advertise 30% off sales….and that's not, in our opinion, either "safe" or a "way" to go… The "front line" prices we've seen listed at certain supermarkets, before their advertised "big discounts", does, most times, not really reflect what the actual "front line/suggested full retail price". We find that to be a bit less than honest marketing. We do see some prices at times that are, no doubt, pretty good, and if asked, we would be the first to tell you if that was a temporary price, that for some reason, we were not willing or able to Meet or Beat.
Even so, your local

Wine Seller®

will still generally be able to

MEET*

 and most times 

BEAT*

 their sale prices

, in spite of all the chicanery.  We appreciate your support and hope to reward you with great service and selection.
More About

Joe Euro
Joe was in "Fine Dining" as a waiter in Chicago, Seattle, (

McCormick's

Fish House & Bar

) Port Townsend, and several top restaurants in the Virgin Islands, such as

Hotel 1829

in

St. Thomas

.  Euro became the wine buyer/Sommelier for Lonny Ritter's restaurant,The Lido by the Sea, back in the late '70s/early 80's.Joe is also a well known Instrumental Guitarist and Recording Artist, and his recordings are available through a number of online sites such as CDBABY.com; AMAZON.com: Spotify; Rhapsody: iTunes and more…

Seattle area wine/beer distributors deliver product to

The Wine Seller

without any shipping costs

, making it possible to be

very competitive

with any Seattle area competitors,

"Big Box" stores

and online retailers.
When Joe wanted to switch to a "day job" and keep evenings open for

guitar jobs

at restaurants and clubs, the proverbial "light bulb" went off over his head, and he realized he could sell wines and beer retail in Port Townsend at a fair and competitive price, especially since many Port Townsend residents were "regulars" at this

Lido Restaurant

, and had gotten to know Joe's knowledge and passion for wines.
With his knowledge of the many distributors gained while being Lonny's

"Sommelier"/Wine Director

, and in the early years of

The Wine Seller

, when Joe made weekly "pilgrimages" to Seattle distributors that did not deliver to Port Townsend, so Joe could obtain wines and beers he wanted, that No One else on the peninsula had. Joe knows how to get the goods at great prices!  And the rest is history.

Since 1982