Welcome to The Wine Seller
Since 1982, offering fine Wines, Champagne and Bubblies as well as a great selection of Beer and Ale with personal and knowledgeable service, and a wonderful, competitively priced selection to discriminating palates in Port Townsend, Washington, and neighbors, friends, and visitors from around the world.
You may see some crazy ads and sales at your local supermarkets for 30% off certain wines and even another 10%-15% off a 6-pak, but remember that most times those "Front Line Prices" are false or bogus. Even so, your local Wine Seller will still generally be able to MEET* and most times BEAT* their sale prices!
Call or stop by with the best price you've seen on some of your supermarket favorites! Of course, your local Wine Seller has plenty of great wine deals on wine and beer we taste and buy, and stock our shelves with.  We have an amazing selection from around the world — Spain, Italy, France, New Zealand, Australia, Argentina, Chile, South Africa, as well as one of the best selections around of Washington and Oregon Wines…and yes..California wines too..well chosen for value and enjoyment!
It's an ever-changing selection as well, as we deal with a lot of small producers of all sorts of premium fermented beverages. (Wine, Champagne, Beer & Ale, Hard Cider, etc etc.) So stop in often and while you're here, WINE NOT grab a box next to the cooler and mix-a-case. Our generous 15%* every day mixed or whole case discounts* are truly hard to beat! (10% off 6 BTL. 1/2 CASES)  WINEAUX GREGARIOUS Club members save even more…AS MUCH AS 17% off REGULAR AND SALE PRICES!
Often, our discounts combined with Winery and/or Distributor mark downs and occasional "Close Out Dealz" savings can be 30%-40%-50% sometimes even over 75% OFF
(*some restrictions, see store for details).
Some Current Specials

(see Specials page for reviews)

---

Great selection now on South of France and Rhone Reds, including some fantastic Chateauneuf du Pape reds.

---

Rare, hard to find or obtain Washington wines such as Five Star Cellars; Walla Walla Vintners; Fielding Hills; Gorman; Smasne; and of course…some of the legendary ones like Leonetti, Quilceda Creek, Andrew Will and Woodward Canyon.

---

Don Ramon, Spanish Red. $9.99/ btl ($8.30 or $99.60/case with Full Wineaux Club discounts) Delicious Blend of Tempranillo and Garnacha.

---

Attention all Burgundy (whites and reds) aficionados…you know who you are…new shipment of Burgundies 2011!

---

2009 Clocher Chardonnay
Chardonnay $23.99/btl "net" (reg. $29.99)
Red, South of France Blend of 65% Cabernet, 20% Syrah, and 15% Merlot $19.99/btl "net" (reg. $24.99)

---


Select Riedel Stemware (and stemless "O" Series) Bavarian Glassware/Crystal

$6.99 to $7.99 per glass when you buy or order a 12 pack (see store for details)

In Store, Every-day price: $9.99 each

Suggested Retail: $15.99 each

---

Marietta Old Vine Red

$10.99/btl "net" when you mention this web deal or are a current Wineaux Club member

(reg. $15.99 — in store, before discount price $13.99 everyday in store price, before discounts)

---


The Marilyn Merlot Vertical collection includes 12 bottles, one each of the first 12 vintages of Marilyn Merlot, 1985-1996.
$10,000 OBO ($12,000 on the www.marilynwines.com site).
We are offering the second "Vertical" Collection 1997-2008 at $1,275 ($1,400 on their site)

---


Saint-Hilaire, South of France Bubbly.

$10.99/btl "net" when you mention this web deal or are a current Wineaux Club member

(reg. $16.99/btl) when you mention this web deal! $13.99 in store price.

---

Delicious, suprisingly well made and "user friendly wines from California!

only

$8.99/btl "net" When you mention this web deal. or are a current Wineaux Club member Wineaux Club member

(reg. $11.99/btl)

$10.99 in store price

---


2011 Quilceda Creek Columbia Valley Red Wine
$59.99 ($49.80 Full Wineaux Club discounted price*. Any actual discounts, if any, maybe be different) a few older vintages available as well.

---

RADIUS, Washington Wines all $8.99/btl. $11.99/btl. (only $7.47/btl- $89.64/case with Full Wineaux Club Discounts!!

Regular whole/mixed and 1/2 case discounts apply for everyone else)  Suggested retail: $11.99/btl


Chardonnay: Oak, Apple, Spice, Medium-bodied Washington- Welcoming toasted oak notes swirl around dried apricot, apple cobbler, and baking spice aromas. A rich palate filled with intense fruit and honey. Lingering residual sugar is balanced by acidity for a clean finish. A slight touch of toasty oak peeks thru too.

Merlot: Fresh, Vanilla, Raspberry, Medium-bodied Quite fruit forward and perhaps a touch sweet.

Washington- Flavors and aromas of sweet cherries, ripe red raspberries, succulent plums and vanilla leading to a soft and silky finish. Enjoy with red meats, grilled fish and sharp cheeses.

Cabernet Sauvignon:Fresh, Black Cherry, Chocolate, Medium-bodied Washington- Aromas and flavors of currant, black cherry and red jammy fruit. Hints of toasty oak lead to a
long finish in this bold wine. Enjoy with red meats, game, sharp cheeses and dark chocolate. Very forward slightly sweet fruit.



Red Blend: (We like this Delicious, Soft Easy Drinking Washington Red Blend even better than 14 Hands "Hot To Trot" Red!! But it is somewhat similar) Juicy, Black Cherry, Plum, Medium-bodied Washington- Flavors and aromas of juicy rich black fruit, ripe cherry and hints of toasted vanilla oak lead into a long and tasty finish with lingering fruit notes. Well-balanced with smooth tannins, and slightly sweet/fruit forward.

---

one of our all time favorite California Bubblies!
Scharffenberger Brut
only $15.99/btl "net"


when you mention this web deal or are a current Wineaux Club member

Reg. in store price $19.99 before discounts.

Suggested Retail $23.99/btl.

---


Barnard-Griffin, Fume' Blanc
$7.99 (reg. $9.99/btl)

When you mention this web deal!

---


'09 Rhone Reds (and some other older vintages)
$9.99 to $35.99/btl

Chateauneuf du Pape wines from $39.99/btl.

---

"Net" sale prices indicate the bottom-line discount, with no other case, coupon, or Wineaux Club discounts.

Newly Featured Wines from The Wine Seller

---

New Vintages of Leonetti and Quilceda Creek. Those of you who know about these wines, they are the top two "Cult Wines" of Washington State, and some of the most sought after as well. Your local Wine Seller, besides keeping our prices on these quite fair (especially when purchased as part of a 1/2 or mixed/whole case, or you're a current Wineaux Club member) gets a fairly decent allocation of these wines (more than many shops, but shhh..don't tell them…it'll only make them jealous). Of course, you will never see these wines at Safeway, QFC, Costco, and the like. They are allocated to well-established bottle shops, like The Wine Seller, and "White Table Cloth" restaurants only, as a rule. It generally takes years to get on the lists of these wineries, and then you have quantity purchase requirements, shipping costs, and if you ever decline your year's shipment, you're off the list and at the bottom again.. So Wine Not pick up a few bottles of these legendary wines while they are in stock. We do have some back vintages as well,
at slightly higher prices. Many other rare Washington wines in as well.

From Leonetti Cellars:
Cabernet Sauvignon 2011, Walla Walla, $99.99 ($82.99* with full Wineaux Club discount)

Merlot 2012 Walla Walla, $89.99 ($66.39* with full Wineaux Club discount)

Sangiovese 2011 Walla Walla, $74.99 ($62.24* with full Wineaux Club discount)

Reserve 2011 Walla Walla $159.99 ($132.79* with full Wineaux Club discount)

Quilceda Creek 2011 Cabernet Sauvignon $179.99 ($149.39* with full Wineaux Club discount)

Still have older vintages available too. EXTREMELY LIMITED on all these legendary, rare Washington Reds.


* Full Wineaux Gregarious club discounts are 17% off if paid by cash or check.

14% off with credit cards.

Other discounts for non Wineaux Club members are:

10% off for 1/2 cases (6 bottles or more)

15% off for whole or mixed cases (cash/check/debit**(over $70)

12% off for mixed/whole cases with credit cards.
The Wine Seller was established in November 1982, in Port Townsend, Washington, by Joe Euro. For the whole story of the wine seller read more.
SELECTION
Because of The Wine Seller's long history in the industry, its inventory depth ranges from excellent value wines in all price ranges to rare and often highly allocated wines. The Wine Seller features many of these wines in its bi-weekly wine tastings held at the store from October thru June. The schedule can be found on the tasting page.
WE SHIP TO MOST STATES
The Wine Seller has been shipping wine to most states for years now. We are an approved Wine Shipper with Fedex. An adult signature will be required at the receiving point.
PARKING/LOADING ZONE
Right in front of the Palace Hotel (which is basically right in front of our shop). If there's no motorcycles in the motorcycle spot, just pull in there, put your 4-WAYS on and pop in for a mixed case or two, or at least to pick up a few bottles of this or that, or those special wines or cases you ordered. Now, that being said, that space is not for parking while you go out to lunch or do other shopping – it's just for the 2 to 10 minutes or so it takes to pick up your wines or beers, a few chunks of cheese form our cheese cooler, or quickly mix a case or two.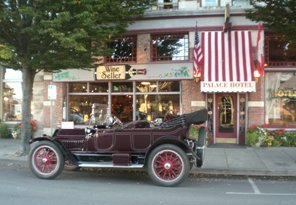 NOT JUST WINE
The Wine Seller stocks many premium beers, gourmet cheeses (made locally and beyond), premium coffees, and fine chocolates. More detailed information can be read on the products page.